Set Up Your Entry Points—these are called "Growth Tools" inside ManyChat. But Facebook calls them Entry Points, so we're using the same term.
As you get started, we do have a couple of "don'ts."
Don't overwhelm your users with too many options or decisions to make
Don't distract from the main CTA
So we suggest a maximum of 2 Entry Points (or Growth Tools) per page. In many cases, you may only want to do 1, like a button so it's super clear and direct.
Inside the Entry Point tab, you should see 2 options to choose from. Click into "Growth Tool #1," and a new dialogue box will appear. This is the "Opt-In Actions" tab. That tab will be good to go—it's already connected to the correct "Flow."
You can customize your URL by going to the "Setup" tab.
Change the "Custom Ref Parameter" to whatever you want to call the link. Choose something that helps you remember what it is, even if it's just the name of the asset.
Then click the SAVE button in the top-right corner.
Now you can use this link anywhere. Attach it to a web button, an Instagram bio link, even Facebook and Instagram Stories swipe ups—anywhere a link can be used that you're pointing people toward some sort of free content.
On to Entry Point #2!
Click the Widgets button in the top left corner. (You can also click Growth Tools again from the left-hand menu.) That will take you back to your list and to Growth Tool Number 2.
That will take you to a page that looks like this: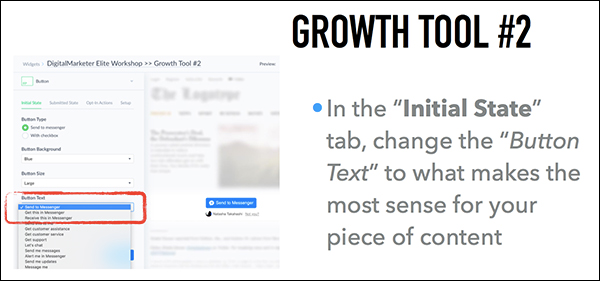 This is a button, but it's already optimal, so don't change anything except the button text. Adjust that to whatever CTA you want to use.
Now we're moving on to the second tab, it's called "Submitted State." This shows what it looks like to the user after they click your button.
You can change the text in the box to a CTA that fits your particular audience.
That button will take the user to Messenger to access the content you're giving them.
Now we move on to the third tab, called "Opt-In Actions." You don't need to do anything here—it's already connected.
Finally, click on the Set Up tab. You don't have to do anything here, but you can use it to test it out on a website page if you wanted to see what it looks like. ManyChat will walk you through it, but there's basically 2 pieces of code you'd need to install. One is in the header of your website page and then an embed code that actually makes your button appear.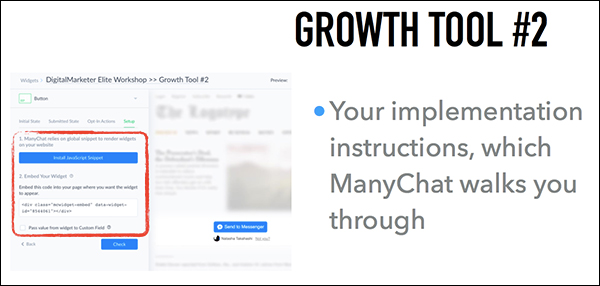 So take a few minutes now to test that out on your landing page.
RELATED TRAINING: Landing Page Builder Playbook