Now it's time to create your campaign!
In this portion, you will be going through and editing the flows you have inside that ManyChat template.
Go to the left-hand column inside ManyChat and click "Flows." Your flows should be in folders inside there.
So what does the Opt-In flow look like?
This is the first message someone sees from your bot once they opt-in. You saw on the worksheet we have our entry points and then we've got the Opt-In Flow.
Here's an example that you'll see in the ManyChat Flow that we'll take you through.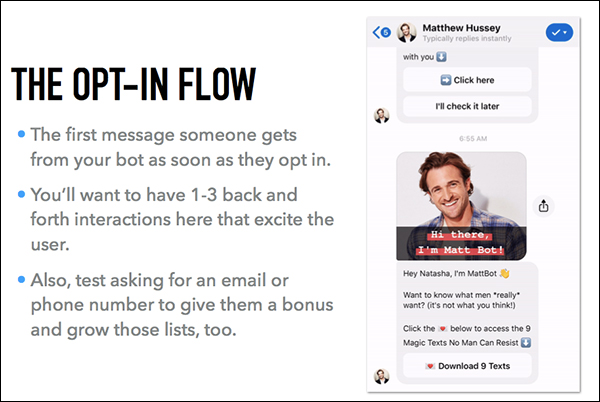 Here you want to have 1 to 3 back and forths that will excite and entice the user.
This is also a great place to get their email or phone number if you haven't already. To do that, offer them a "bonus" that's related to your Lead Magnet offer. The idea is to have an incentive here to get another contact method.
Now jump over to "Opt-In Flow."
In the top right corner, you should see a button that says "Flow Builder." When you click it, it shows a flow chart that's inside.
Zoom out so you can see everything. You'll see some yellow comment boxes with comments from DigitalMarketer that explain why certain things are happening.
Where you act is within the boxes that say, "Insert Your Copy Here." There should also be a little green box that says "Starting Step." That's where you edit this.
In the top right corner of the screen, you'll see an "Edit Flow" button that will allow you to edit this whole thing.